Oz Moving & Storage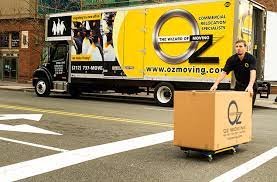 Oz Moving & Storage company in New York City, New York, Oz Moving & Storage started in 1993 with a radical promise to our customers. Our founder Avi Oz thought too many moving companies in NYC were not treating their customers fairly. Fed up with their unscrupulous practices, he set out to change the industry for good. Avi founded his own moving business with the radical goal of making a moving company truly dedicated to serving its populace.
Fast forward to today, and Oz Moving & Storage has been in business for over 25 years. Oz's rise to the top of the NYC moving company podium is a result of our tireless hard work. Each year Oz moves 15,000 New Yorkers, both from their apartments and their offices, as nearby as Manhattan and as far away as Southern California. No matter where our customers are moving or how much stuff they're taking with them, they can expect the same quality of service from Oz's highly experienced team of moving specialists.
In its first year as a moving company in New York City, Oz started with one truck and a handful of employees. As we completed our first jobs and word spread about their company, Oz gradually grew into a titan of the NYC moving industry. Now, They have over 50 trucks and hundreds of employees across two locations in Manhattan and downtown Los Angeles, California.
Oz Moving & Storage Company in New York City
SERVICES:
PACKING SERVICES
ADDITIONAL SERVICES
FINE ART MOVERS
FURNITURE MOVERS
LAST MINUTE MOVERS
PIANO MOVERS
LOCAL MOVERS
LOCATIONS:
NEW YORK
TOGGLE SUBMENU
NEW JERSEY
LOS ANGELES
CONNECTICUT
SOUTH FLORIDA
MOVING:
RESIDENTIAL MOVING
LONG DISTANCE
WHITE GLOVE MOVING
COMMERCIAL MOVING
BUY SUPPLIES
PROMOTIONAL OFFERS
Top Moving Companies New York List
Best Insurance Agencies in New York NYC 
For Changes in this listing, contact Suniltams